Baltimore Networking Lunch
Saturday, Dec. 1 at noon
RSVP by 11/28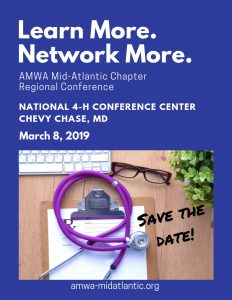 Save the date!
Join us March 8, 2019 for the Mid-Atlantic chapter's regional conference. More details to come!
Northern Virginia Dinner
Join us Dec. 7 at 5:30 p.m.
RSVP by 11/30
The AMWA Mid-Atlantic Chapter includes members from Maryland, Virginia, DC, the southern part of Delaware, and the eastern part of West Virginia. New and prospective AMWA members are also welcome at all of our events!