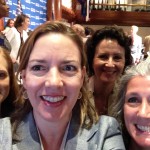 Start networking!
Come to one of our regional get-togethers! Next one is in Bethesda on August 11, 2016.
Join our conversation on LinkedIn and Twitter!
Join us in Denver!
Don't miss AMWA's Medical Writing & Communication Conference–October 6-8, 2016 in Denver! 
Meet our new leadership!
Our AMWA-MAC chapter has announced a new president-elect and other chapter leaders. Read all about them now! 
The AMWA Mid-Atlantic Chapter includes members from Maryland, Virginia, DC, the southern part of Delaware, and the eastern part of West Virginia. New and prospective AMWA members are also welcome at all of our events!