Registration is NOW OPEN for the AMWA-MAC Brunch Roundtables on November 7!
Early bird registration ($35) until midnight, October 14!
Get more details and register NOW!
OCTOBER 16: NoVa Regional Networking Lunch
Come to Arlington and join your colleagues for a fall lunch meeting at Osteria da Nino.
NOVEMBER 7: AMWA-MAC Brunch Roundtables
Choose from a range of offerings at our fall brunch event in Chevy Chase!
MARCH 4, 2016: AMWA-MAC Spring Regional Conference
Save the date now for our 2016 Regional Conference! Details and topics TBA.
The AMWA Mid-Atlantic Chapter includes members from Maryland, Virginia, DC, the southern part of Delaware, and the eastern part of West Virginia. New and prospective AMWA members are also welcome at all of our events!
Get certified!
Be the first to become Medical Writer Certified (MWC™)! Learn all about AMWA's newly launched effort.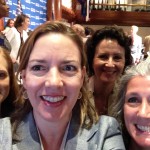 Start networking!
Come to one of our regional get-togethers! Join our conversation on LinkedIn and Twitter!